ABOUT US.... and the accordion in general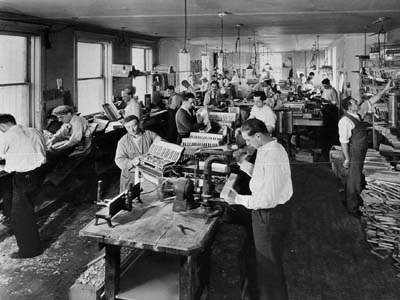 In the early 1900's, the first phase of what would become the oldest accordion company in the United States opened for business on Taylor Street in Chicago, Illinois. After a few years, Demo Piatanesi and his two brothers, Finau and Bramante joined Luigi Giuletti and others to relocate the newly named ITALO-AMERICAN ACCORDION COMPANY to 51st and Kedzie, on the southwest side of Chicago. In it's prime, the accordion company manufactured over 25 accordions a week, and quickly gained a reputation all over the Midwest for it's top quality accordions and fine craftsmanship. Originators of the POLYTONE, POLYTONEL, ITALO-TONE, POLKAMASTER, POLKA-TONE, POLKA-KING, CONCERTMASTER, GLORIA, and NEW AGE models, the ITALO-AMERICAN ACCORDION COMPANY provided accordions for professionals and students, alike. Famous accordionists through the times have played Italo-American models such as: Pietro and Guido Diero, Andy Rizzo, Frank Salerno, Sam Porfirio, Johnny Vadnal, and Reno Tondelli, just to name a few.
---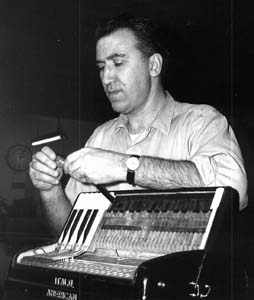 Giuseppe "Joe" Romagnoli, who took over the business in 1950, was widely regarded as the last true accordion craftsman. Joe is credited with numerous innovative manufacturing procedures that are still used in producing the accordion in our day. Perhaps the last man in America who could create a full working accordion from scratch, he operated the factory at 51st and Kedzie until his death in 1994. The company was then taken over by wife Anne, and moved to its current location in Oak Lawn, Illinois. Even today, Joe's accordions remain some of the most sought after and best built instruments in the world.
---
ITALO-AMERICAN continues to assist accordion enthusiasts with all of their needs. We still boast one of the largest accordion showrooms in America and our used accordion inventory is always stocked with refurbished bargains and classics. New models are imported from Castelfidardo, Italy, the accordion capital of the world! Our experienced accordion technicians can perform repairs on any type of accordion, so just try us! With the addition of hundreds of new internet customers and the accordion resurgence, ITALO-AMERICAN has showed no signs of slowing down.
USED ACCORDIONS
SPECIALS
On these full-size piano accordions!
Prices good until March 1, 2008
Call us toll-free at 1-800-243-6620 to place your order
ItaloAmerican Polytone Accordion
Joe Romagnoli
4/5 handmade reeds (LMMH)
Only $4800

ITALO AMERICAN GLORIA
4 / 5 reed (LMMH)
Made in the USA
Only $1395

ITALO AMERICAN
POLYTONEL USA
3 / 5 reed (LMH)
CHAMBER - HANDMADE REEDS
Only $3595

Pro ITALO AMERICAN NEW AGE CONCERTMASTER
4 / 5 reed (LMMH)
HANDMADE REEDS - USA
Only $2895

Italo-American offers one of the largest accordion showrooms in the U.S.A. Most names, styles and prices. Give us a call or e-mail with your specific request. Be sure to include...
Style? Piano, button 1,2,3 or 5 row Color? If preferred Brand? If preferred Size? Full or reduced, keyboard length, 120, 96, 80, 48 bass, etc. Condition? Playable, Good, Very Good, or Mint Price range/Budget? Reeds or tuning? Any other specifics?
DON'T SEE WHAT YOU ARE LOOKING FOR?
We carry different brand names in piano and button style accordions. We can get you what you want!

Give us a call or e-mail us with your questions.
Hours of Operation:
Tuesday-Saturday
10:00a.m.-5:00p.m. CST
Sunday & Monday by Appointment

We are the ITALO-AMERICAN ACCORDION Company!
5510 W 95th Street in Oak Lawn, Illinois 60453
phone: 1-708-422-2992
fax: 1-708-422-5236
TOLL-FREE PHONE NUMBER FOR ORDERS: 1-800-243-6620
E-mail: ItaloAmAccordion@aol.com